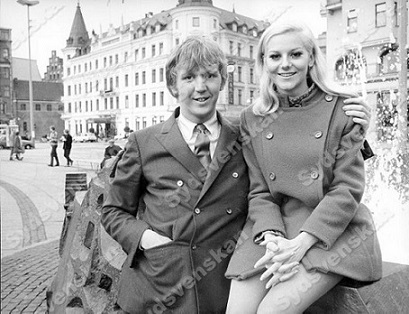 February 10th Appears on Musik aus Studio B
February 15th Bas Hegeman reporting from Amsterdam for Billboard in the 'Music Capitals of the World' section writes ...Peggy March has been booked to appear in the Grand Gala du Disque on March 7th...lined up so far to appear ...are Mary Hopkins, Harry Secombe, Buck Owens and his Buckaroos, James Last and his Orchestra, Mireille Mathieu, the Moody Blues, the Flirtations, Nini Rosso, Peggy March and the Ossipov Ensemble.
February 22nd Peggy is a competitor in the Broadcast TV Show Ein Lied für Madrid that selected Germany's song for Eurovision. Peggy competes against two other popular singers Rex Gildo and Siw Malmkvist who each sing 3 songs. Peggy finished runner-up with Hey das ist Musik fur Mich behind Siw Malmkvist's Primaballerina which went on to place 9th in the Eurovision final.

February 25th Hey is recorded in Berlin.
March 1st Peggy appears on the Hit Parade* Von Radio Luxembourg*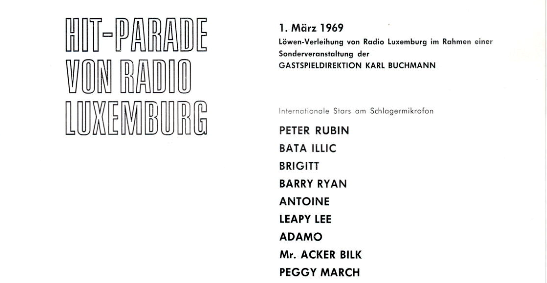 March 7th Performs in the Grand Gala du Disque in RAI Congress Centre Amsterdam. Also appearing were Chet Atkins, Buck Owens, the Sandpipers, Gladys Knight and the Pips, Ike and Tina Turner, Miriam Makeba, the Pentangle, the Moody Blues, Harry Secombe, Rika Zarei, Mireille Mathieu, James Last, Amalia Rodrigues, Martine Bijl and Ann Burton. This was both screened in colour by AVRO-TV and broadcast on NRU radio. With Guus Oster below.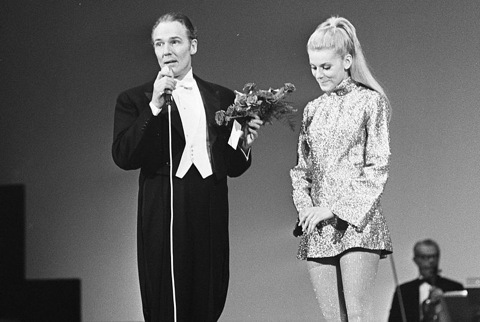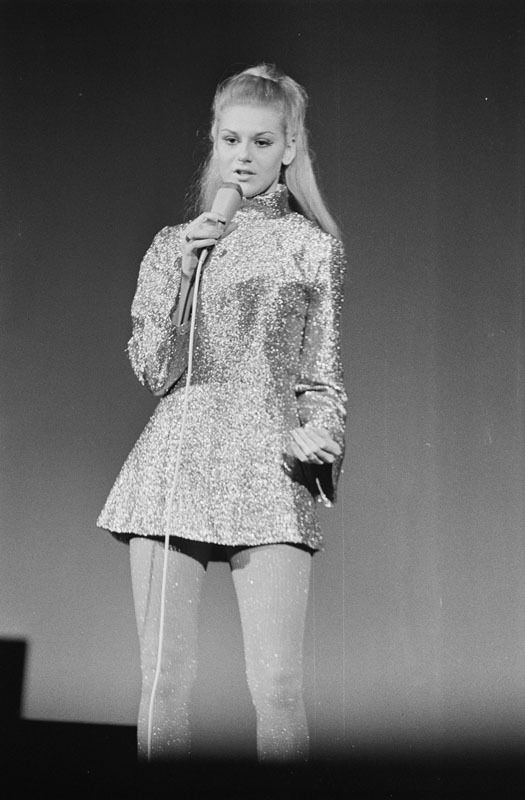 Two more videos of Peggy singing Hey das ist Musik fur Mich

Appears on Rai Uno and sings Che Figura Ci Farei. I don't know the date of this transmission but the dress suggests it was around March. (Peggy rarely wore the same outfit if a show was televised.) Peggy's far from relaxed performance is the result of being pestered by a member of the audience.

March 27th Appears in the game show Der goldene Schuss
March 29th Publicity release for an upcoming visit to the UK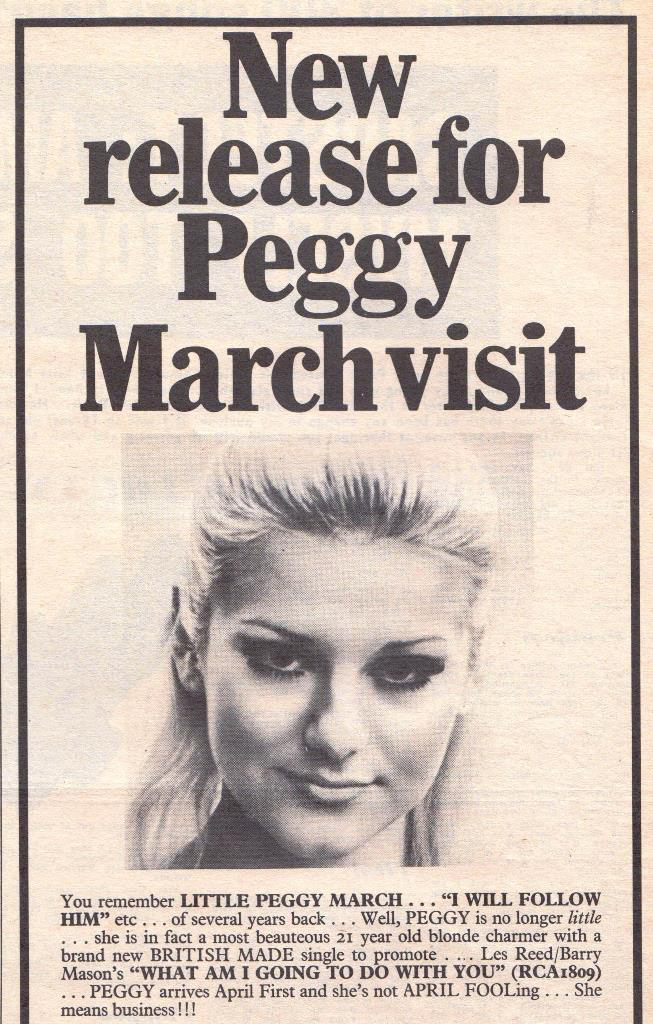 April 5th Elson Irwin reporting from Tokyo for Billboard in the 'Music Capitals of the World' section writes ...Peggy March(RCA) will return to Japan in May...
April 5th Peggy appears on the ZDF Hitparade and sings Ein Zigeuner ohne Geige

April 6th Peggy sings Happy Birthday on the show Drehscheibe. There was also an interview of Peggy. This is interesting because it shows that Peggy has started to learn German.

April 16th, Sonne, Mond und Tausand Sterne, Ein Zigeuner ohne Geigeand Boom-Bang-A-Bang are recorded in Berlin.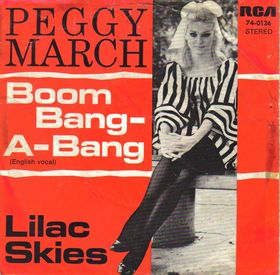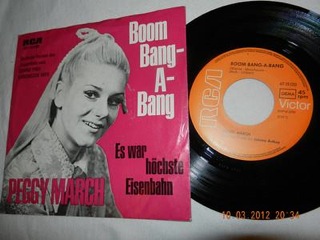 April 19th Hey reaches No 29 on the German Charts and is in the charts for a total of 6 weeks.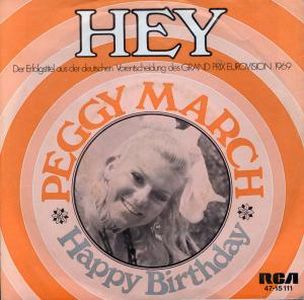 April 19th Performs Hey das ist Musik fur Mich on the show Zum Blauen Bock. (Note I think this was performed on the Frankfurt show)

The LP Die Grossen Erfolge is released by RCA Camden - NR330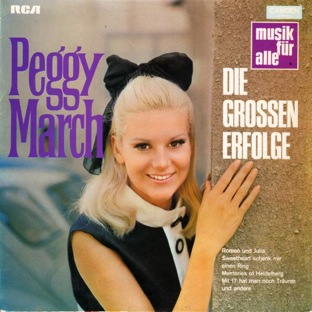 July 7th Article on Peggy in BRAVO magazine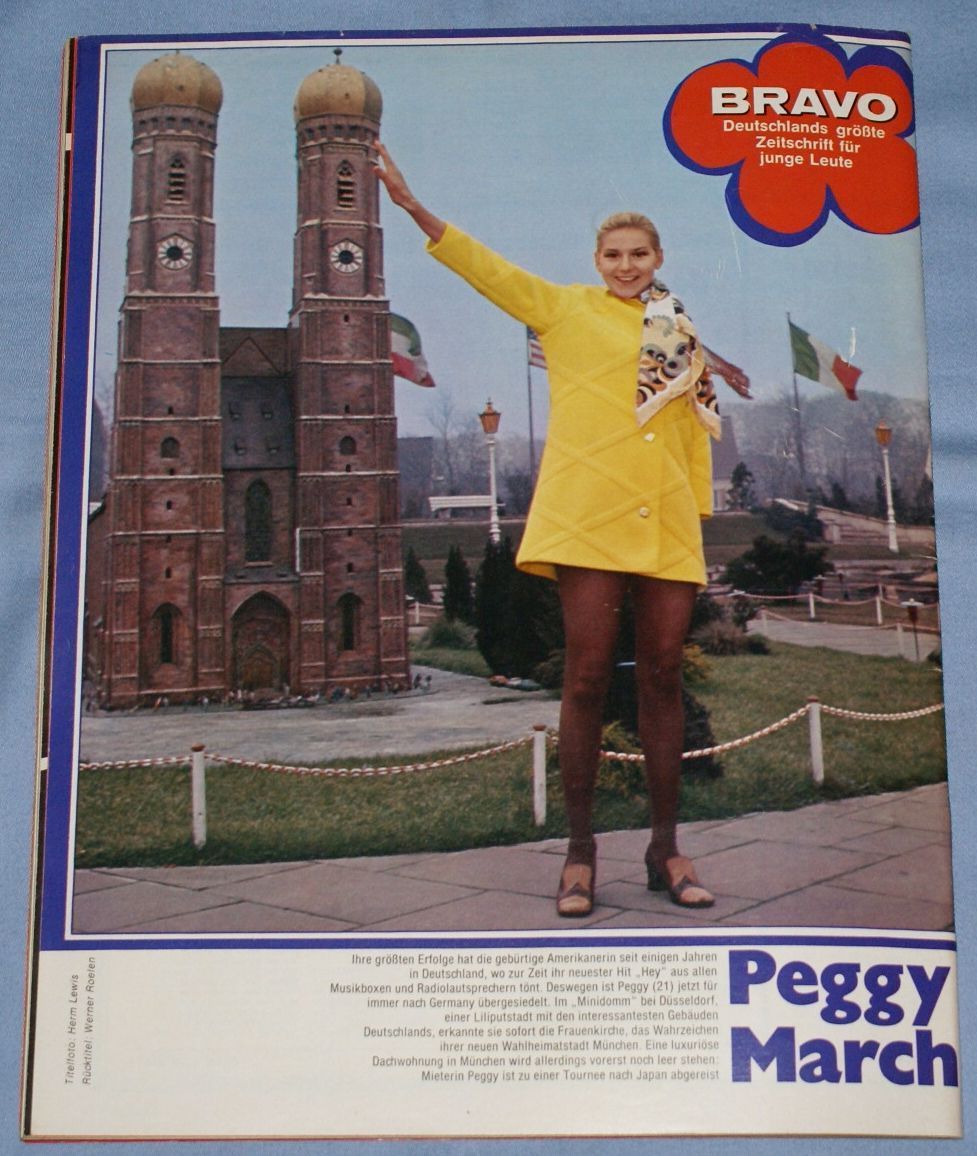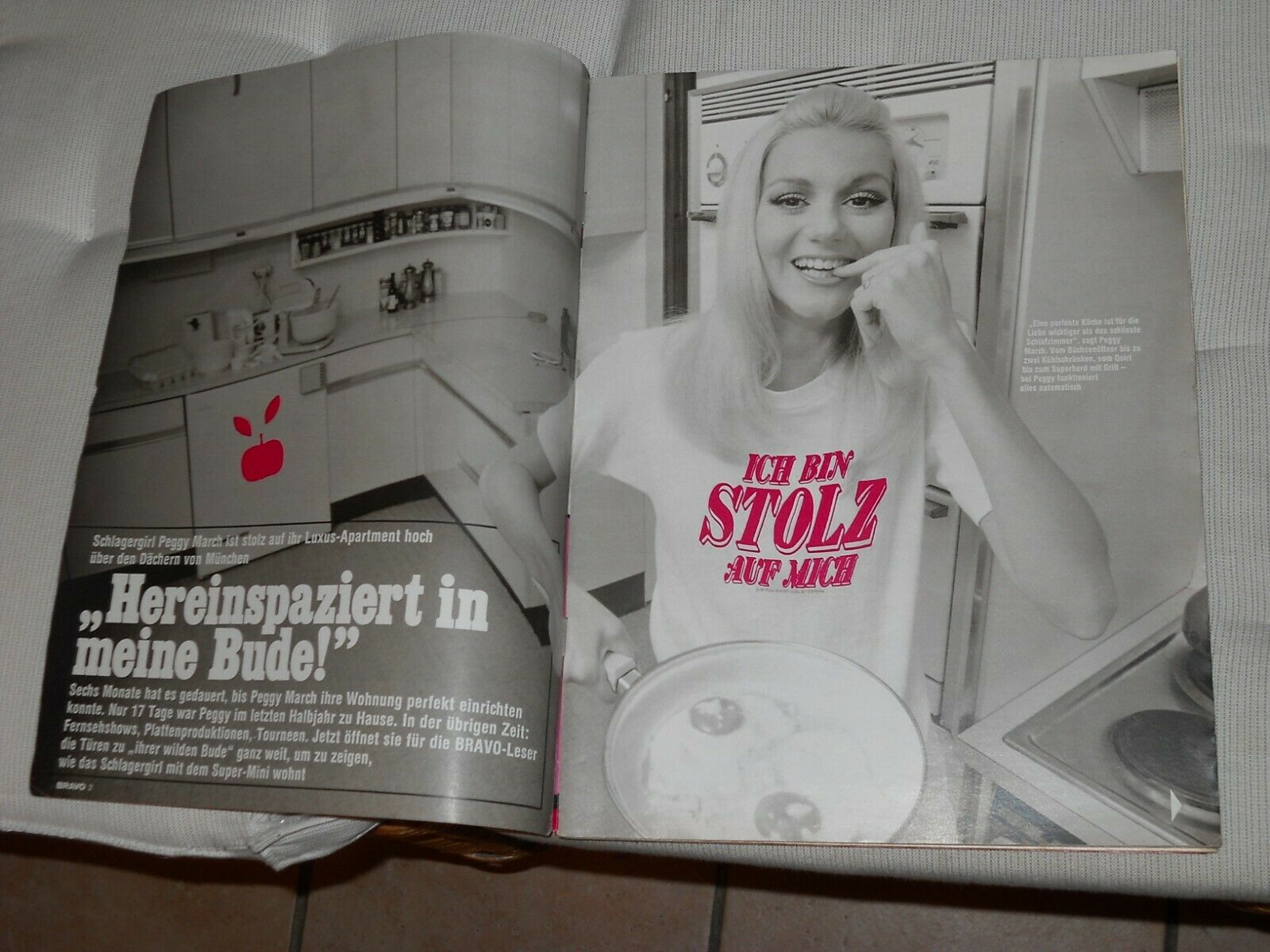 August 2nd Bahama Lullaby reaches No 13 on the German Charts and is in the charts for a total of 5 weeks.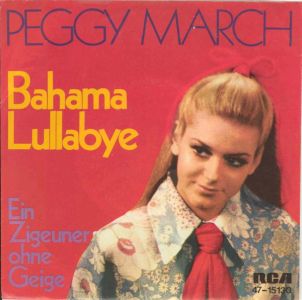 August 16th Billboard, in the article 'LP's Hurt 45s In Germany', reports that "...Top-selling artists in Germany are Peter Alexander, Heintje and Udo Jurgens (Ariola), Karel Gott, Roy Black, Freddy Quinn and the Bee Gees (Polydor); Erik Silverster, Howard Carpendale, the Beatles and Heino (Electrola); Peggy March, Manuela, Tom Jones, the Rolling Stones and Ronny (Teldec); Dorthe and Alexandra (Philips) and Siw Malmkvist, Anna-Lena and Wilma (Metronome)..."
August 23rd Peggy is one of the artists appearing in the Bravo Gala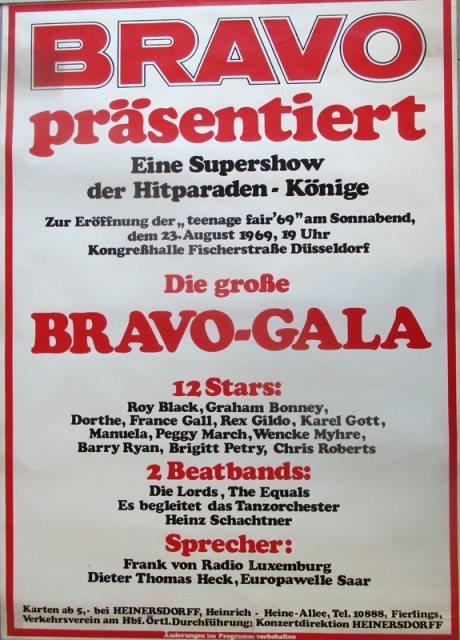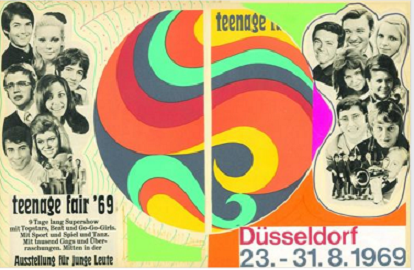 RCA release the LP Hey, Das ist Musik für dich (RCA 10257)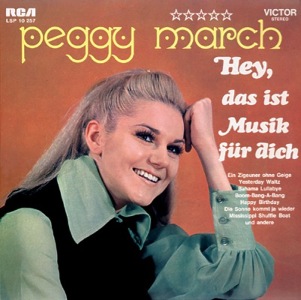 September 1st Appears on the TV Music show Die Drehscheibe
September 2nd Appears on Musik aus Studio B
September 10th Happy-End im Hofbrauhaus and * In der Carnaby Street* are recorded in Berlin. Promotional beermat from the Oktoberfest below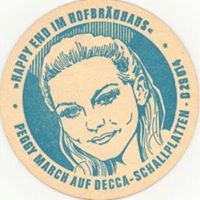 October 18th Peggy appears on ZDF Hitparade. The video below of Peggy singing In Der Carnaby Street might be from this show.
November 3rd Article on Peggy in Bravo Nr 45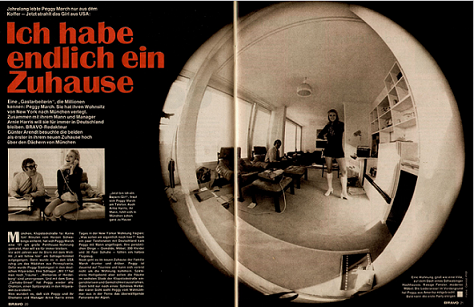 November Peggy is on the cover of the TV magazine Leg auf, sieh fern
Inside content in the second image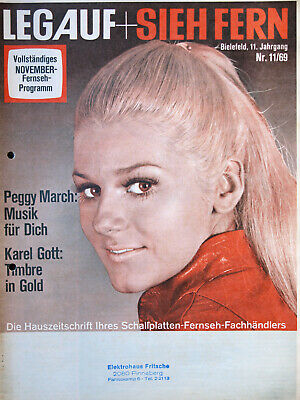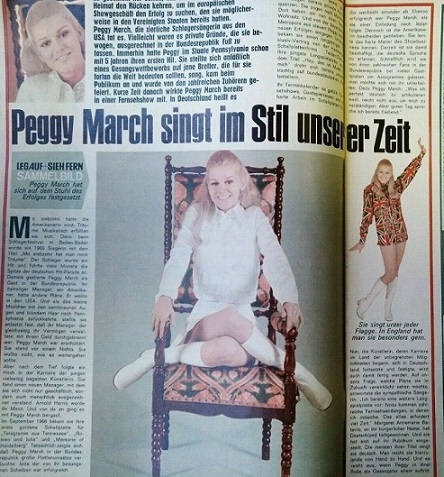 November 15th In der Carnaby Street reaches No 16 on the German Charts and is in the charts for a total of 15 weeks.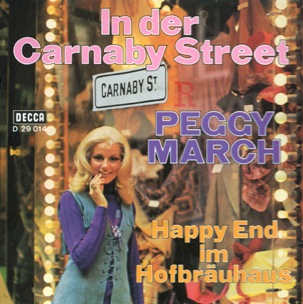 November 29th Peggy appears in the TV show Betty's Beat-Box Haus
Moves to Munich, Germany. London was the first location considered in Europe but was ruled out because of potential flight disruptions due to fog. Munich just felt right despite not being the centre of the German music industry (but it was the centre of the German film industry). Peggy and Arnie had a large apartment on Klopstockstraße 1 in Swabing - the artist centre. Peggy buys her first car a Fiat 124 Spyder in white with a black cloth roof. She wanted a sports car - it was broken into in Munich and suffered from a carbon monoxide leak and was Peggy's last Fiat. Unusually for an American Peggy is a Stick shift (manual gearbox) girl - "you never know when you will be stuck in a desert with a manual jeep". There's a photo of Peggy with this Fiat in Bravo No 24 (see June 8th 1970)
December 3rd The commentary on the Press Photo below says " "At home" in Munich: is Peggy March and she likes everything that is really Bavaria. Being fond of Bavaria, she also visits the well-known Munich "Hofbrauhaus", in order to have there a genuine Bavarian lunch with beer and bretzels (our picture). The blond American has made up her mind to leave the USA and to settle in Old Germany. She has chosen the metropole on the Isar River as the home town of her choice and has her flat in Schwabing, the well-known artist' quarter of Munich."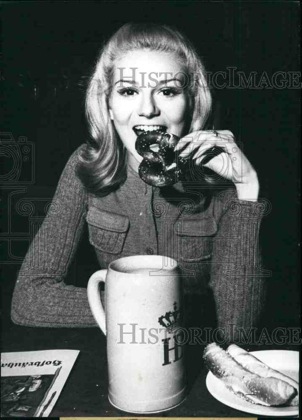 December 10th Appearsi n Bravo Magazine No 50 with other pop stars '14 Stars all Weihnachtsmanner'
December 10th Appears on the Swiss TV show Hits a GOGO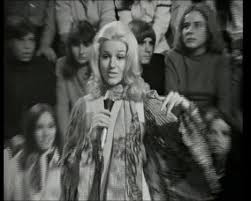 December 20th Mister Giacomo Puccini reaches No 33 on the German Charts and is in the charts for a total of 2 weeks.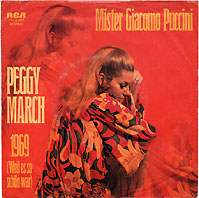 A promotional Poster from 1969